Any spin-off from a major TV show is hard – let alone the second spin-off series. Five years after Fear The Walking Dead landed on our screens, and near on a decade after the original premiered, in steps The Walking Dead: World Beyond. It's a more light-hearted, character-driven take on post-apocalyptic zombie killing, that brilliant acclimates new fans into the long-running franchise.
The show follows four teenagers, who have known nothing aside from the brain-eating epidemic ushered in via the original show. It's anchored around Iris (Aliyah Royale) and her sister Hope (Alexa Mansour), two sisters whose estranged father disappears while working for the shady CRM militia. In a desperate bid to break out from the confines of their sheltered, zombie-free retreat, they team up with reclusive Silas (Hal Cumpston) and eccentric Elton (Nicolas Cantu) to cross the ravaged American landscape, tracking down their father.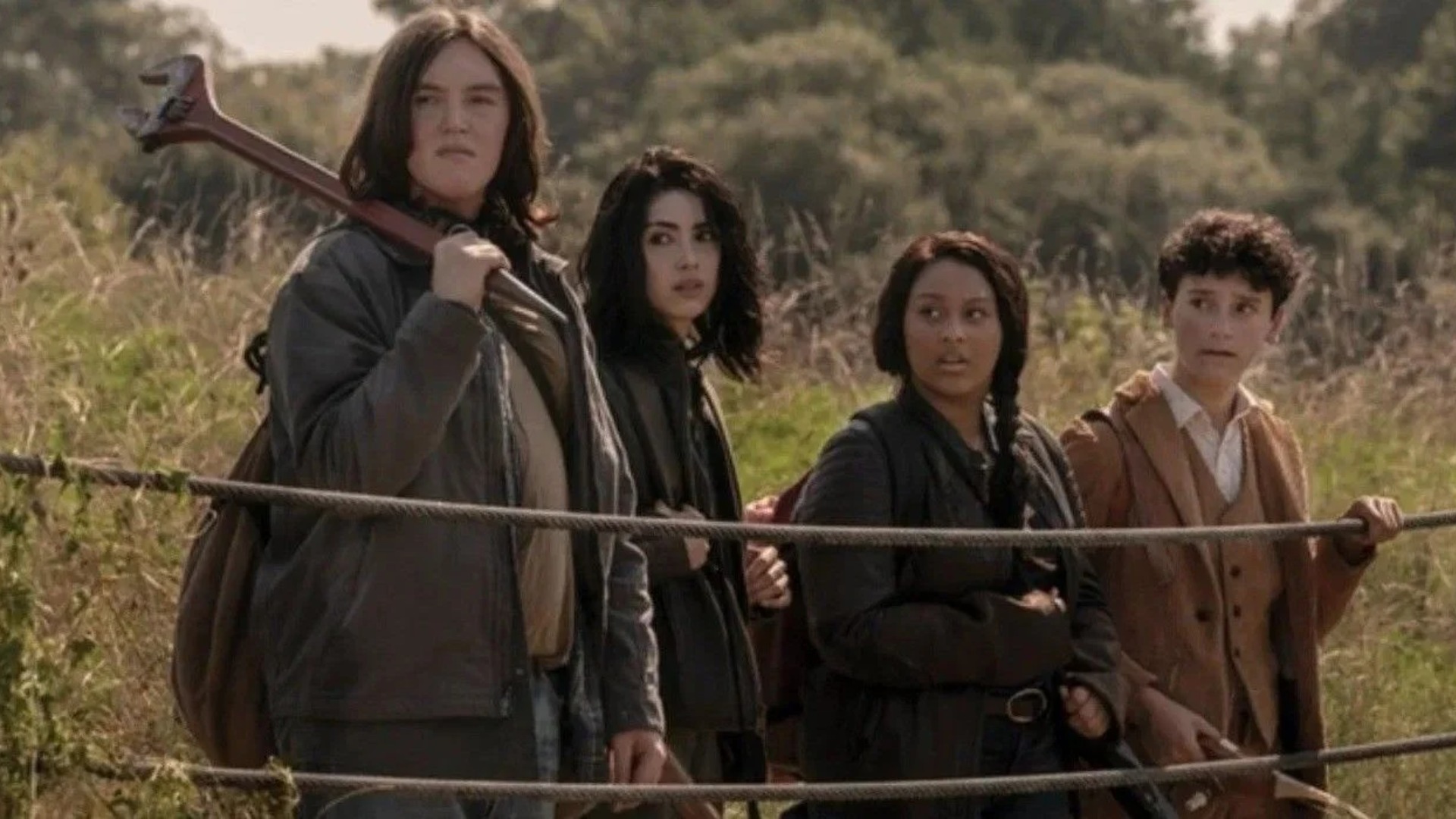 It's a setup that gives these characters plenty of room to breathe, with creators Scott M. Gimple and Matthew Negrete focusing on their interplay and personal motivations. In this sense, World Beyond is a great success: each character harbours some sort of secret, a scornful memory they refuse to share with the group at large. It makes it a show that's very easy to get hooked on, as the depth and weight of these secrets bubbles up, an explosive resolution inevitable.
None of that would work if the cast of characters weren't as engaging in both writing and performance. There are some truly standout cast members here — notably Hal Cumpston's Silas, who balances bubbling rage and suffocating remorse with skill. His is the most intriguing of the characters' backstories, as he stands out from the extroverted personalities of the other group members. Nico Tortorella's Felix is an equally intriguing character, with a really well-established backstory surrounding his parents' rejection after he comes out as gay.
Yes, you might not expect a Walking Dead spin-off show to be so proficient in its character work, but that's truly where World Beyond excels. That's not to say the zombie-based elements don't tick, however. The undead designs themselves are as garish and decrepit as ever, and some empties are so decayed that they've rotted into the shrubbery of the world. Not only is that truly quite intense to witness, but is testament to how constantly dangerous this setting is. Action sequences in these first five episodes are few and far between, but they're done well, proving violent enough to live up to the franchise's name – even if the CGI blood is a little janky, compared to the brilliant practical effects seen elsewhere.
However, what's most impressive is how The Walking Dead: World Beyond condenses the well-trodden zombie formula, making it totally accessible to new viewers. It's certainly of a smaller scale to the adventures of Rick Grimes et al., but presenting this undead world with the unique veneer of childhood innocence really refreshes the property. It sometimes struggles to support the weight of these expectations — some conversations are rather dull and can linger on, and episodes often struggle to balance all of the main cast members equally — but those faults do not detract from the refreshing time you'll have watching it.
The Walking Dead: World Beyond may not appeal to those used to the action-charged antics of the base series, but it's a character-driven, and surprisingly ground-level, look at the undead apocalypse. Strong characterisation and a focus on its concentrated cast means it won't take long before you want to know the answers to the show's mysteries. It's a rewarding and enjoyable watch, whether it's your first The Walking Dead show, or your third.
The Walking Dead: World Beyond season one is out now on DVD and Blu-Ray from Acorn Media International.