A film like The Wraith feels almost like a time capsule. It's as quintessentially 1980s as it gets, through the aesthetics, filmmaking, and plot. That doesn't always work in its favour, but as a sheer sci-fi throwback to simpler, cheesier times, there's enough to win over those looking for a dollop of nostalgia.
Directed by Mike Marvin, The Wraith follows a group of sadistic teen racers, led by the intimidating Packard (Nick Cassavetes). Rather than spending their time slinging drugs, robbing civilians or vandalising local areas, this gang's craft is through cars: they challenge unassuming opponents to pink-slip races, win by nefarious means, and leave with a brand-new car. That is, until a new racer arrives on the block: a masked driver, clad in a black race suit, whose futuristic, Knight Rider-style car leaves them in the dust. As members of the gang start dying and the police close in, they begin to wonder if their troubles lie with Charlie Sheen's mysterious new arrival in town, Jake.
It doesn't take a genius to work out the mystery behind the Wraith-like figure, or to predict the plot trajectory – but of course, that's not really the point. The Wraith isn't here to make you scratch your head and revel in its twists. Rather, it's a relatively easy-going, switch-your-brain-off teen sci-fi romp, that undeniably breezes by. All the tropes of 80s teen cinema are here: football jerseys, over-the-top music, and comically old adults masquerading as teenagers – but rather than working to The Wraith's detriment, it's actually quite charming. It'll remind you of a clash between Mad Max's petrol-head action sequences and the teen fun of Mighty Morphin' Power Rangers – and for that, it's a very easy film to sit and watch.
Where it does slightly fall down is in its lead character, Charlie Sheen's Jake. He's purposefully meant to be a rogue-like new arrival in this sunny American town, who its more morally balanced inhabitants, like grieving teen Billy (Matthew Barry) and Keri (Sherilyn Fenn), are taken aback by. Sheen's performance works in standing out among the rest of the cast, but that's more due to the shallowness of his character than anything else. It's a combination of his one-note line delivery and the lack of depth in Marvin's screenplay, but it makes the protagonist very hard to care for. When you're spending far more time with the antagonists — who are also much more charismatic and interesting to watch — it's a bad omen for the strength of your lead.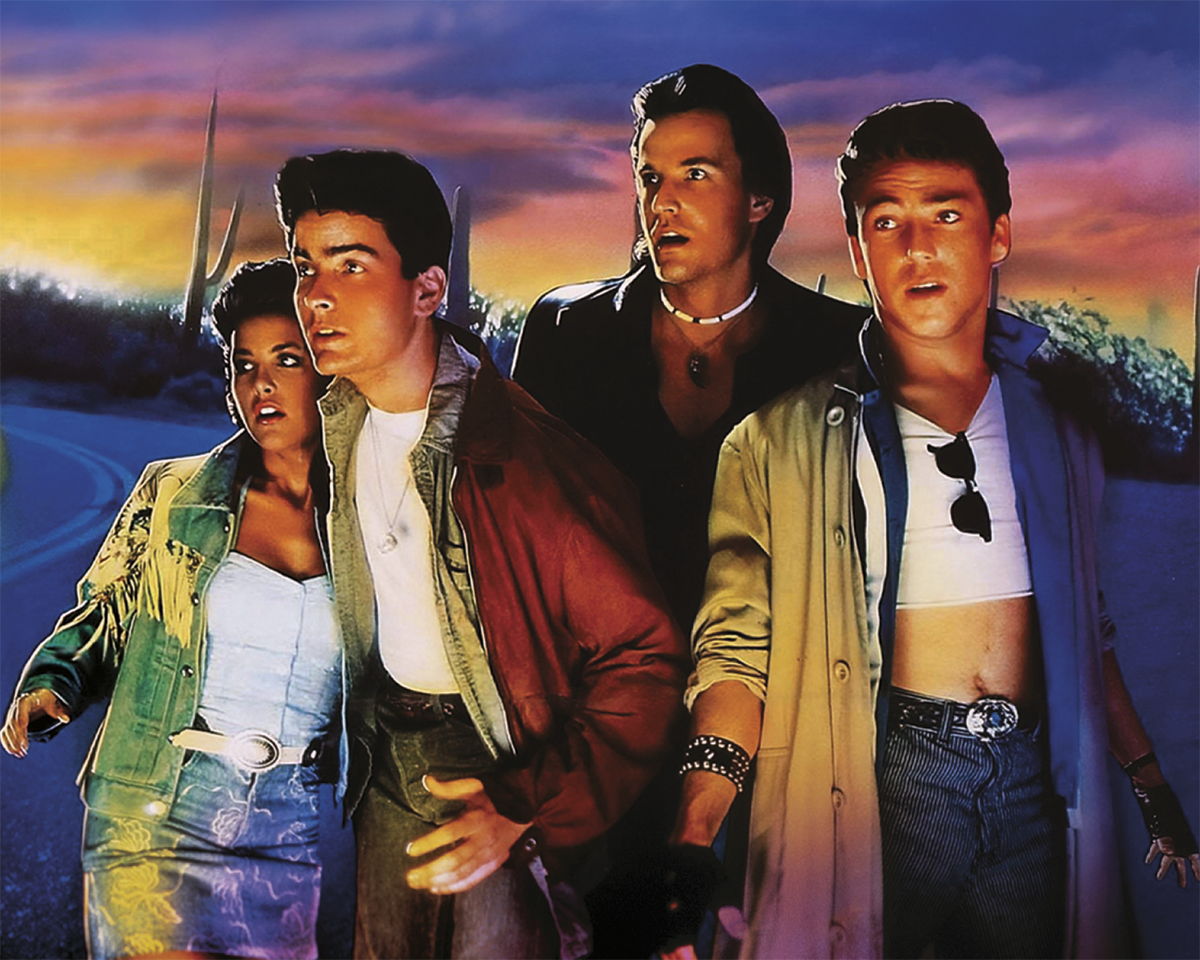 But that aside, it's hard not to enjoy your time with The Wraith. It's anchored by several high-octane car races, and some really visceral crashes to top them off. These are executed really well, with the camera sticking so close to these vehicles every step of the way. Crashes are interspliced with shots of unwitting drivers plunging to their deaths – and it's the sort of morbidity that cements how much fear the Wraith strikes into the hearts of this wacky gang. It's compounded by a soundtrack teeming with classic 80s artists like Billy Idol and Mötley Crue, making the whole experience a full-on nostalgia trip for 80s fans.
While the predictability of its plot, and the weakness of its lead, may let the film down slightly, The Wraith is an undeniably fun throwback to the wackiness of 1980s cinema. It's brimming with quirky hairstyles, outlandish visuals, and the sort of sci-fi thesis that contemporary cinema wouldn't dare touch. For that alone, it's a fun trip – just be aware of the weaknesses on the road.
★★½
The Wraith is on Blu-ray 15 November from Lionsgate UK, as part of the latest re-releases in the Vestron Collector's Series. The film is remastered for Blu-Ray, and comes with two commentary tracks, a range of cast and crew interviews, a filming locations featurette, and more.