A lot of vampire media tends to take itself awfully seriously. From the late-noughties thrills of the Twilight saga to the moody Castlevania anime, the blood-sucking undead tend to garner a reputation for the dour. In steps Sundown: The Vampire in Retreat, a late 80s cult horror hit that spins this idea on its head, telling a wacky and charming story, aided by some brilliant, unhinged performances from B-movie legends.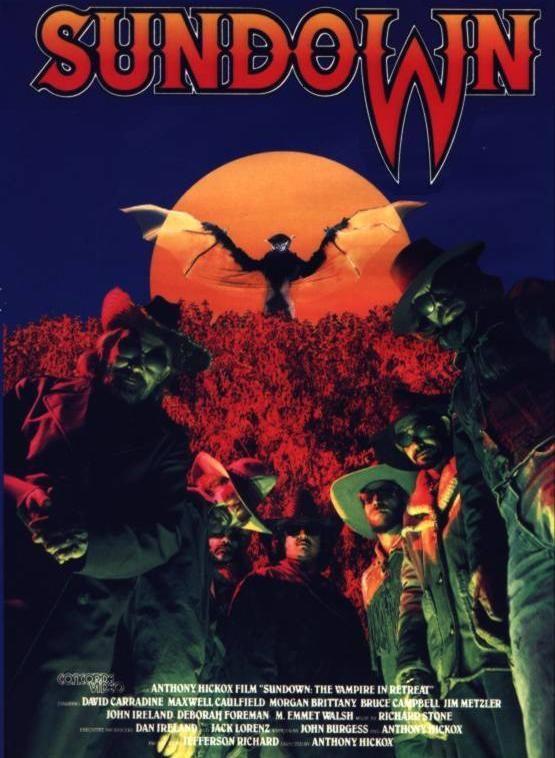 The film follows a community of vampires in the dusty town of Purgatory – but these aren't your regular bloodsuckers. They don't hunt after humans, and don't cower away under sunlight. Instead, a dollop of 100 SPF suncream, and artificial human blood called 'Necktarine', means they can roam the streets like any regular human. Led by David Carradine's Count Mardulak, their life is one of bliss until an uprising from aged vampire Ethan Jefferson (John Ireland), who wants to go back to the vampiric ways of killing humans. Add to that mix the arrival of Van Helsing's wacky ancestor, played by Bruce Campbell, and you've got a conflict between two very different types of vampire.
If it sounds like silly, tongue-in-cheek fun, then that's exactly what Sundown: The Vampire in Retreat is. The film's script, penned by John Burgess and director Anthony Hickox, never takes itself seriously at all. It's a very satirical spin on the vampire tale, with shots of the undead slathering on suncream, akin to a cowboy bracing for a life-or-death duel. Combine that with extravagant action, some charming stop-motion bats, and an expectedly wacky turn from Bruce Campbell, and you've got a cult horror that'll make you grin far more than it terrifies you.
Which is certainly a good thing, as Sundown: The Vampire in Retreat is firmly brazen, balls-to-the-wall fun. While the various subplots aren't always too engaging — including a narrative focused on the human Harrison family and their dealings with evil vampire Shane (Maxwell Caulfield) — just seeing this uncanny world of vampires living in peace is hugely refreshing.
It's anchored by direction from Hickox that lets the cast have unbridled fun in their roles, and not worrying too much about telling an impactful story. A couple of plot threads just peter out once the final conflict arrives, including the fledgling relationship between Campbell's Van Helsing and vampire seductress Sandy (Deborah Foreman), and concerns around the Necktarine's ability to sustain vampires for much longer. But this final conflict is tons of fun: seeing David Carradine and co. rock up to battle against Jefferson donning tuxedos, firearms in hand, is the sort of unashamed coolness that an 80s cult hit like Sundown thrives off.
And that makes it a must-see for fans of cult horror filmmaking, even if it doesn't revolutionise the genre. It's best to let the plot wash over you, especially in the second half, where things get a little unhinged as action comes to the fore. But that's all part of the fun in a horror-comedy romp littered with charming designs, brutal violence, and some cult-classic performances.
★★★½
Sundown: The Vampire in Retreat is on Blu-ray 15 November from Lionsgate UK, as part of the latest re-releases in the Vestron Collector's Series. The film is remastered for Blu-Ray, and comes with a commentary track, a range of cast and crew interviews, and more.