Well, did anybody see this coming?
Just two days before their Comic Con-esque online convention DC Fandome, some huge news has come out regarding the future of the DC Extended Universe, and in a hugely unexpected turn of events, Ben Affleck's Batman will be returning in 2022's The Flash.
The news emerged in a Vanity Fair interview with director Andy Muschetti (It, It Chapter Two), where it was announced Affleck would don the cape and cowl ocne again, in his first appearance since 2017's much-maligned Justice League. According to the article, Affleck accepted the role a week ago having read the screenplay – penned by Birds of Prey's Christina Hodson – and joins Michael Keaton as the second iteration of Batman set to appear in the film.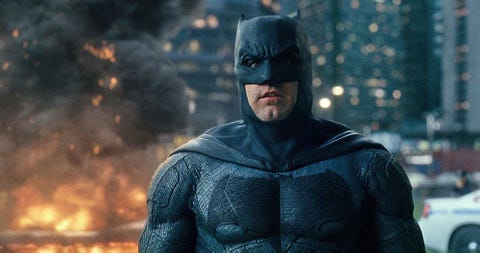 As many have expected, this all but confirms that The Flash will finally tackle the DC Multiverse, where Ezra Miller's Barry Allen will undoubtedly travel through various continuities of DC characters from the past. How this will play out is currently unclear, though Muschetti says that Affleck's Batman will function as "part of that unaltered state before we jump into Barry's adventure", suggesting his role is more one of mentorship in the early stages of the film rather than being actively involved in the film's main conflict. This is probably where Keaton's Batman will come into play – as Barry's guide to the alternate dimension he will find himself in, a role similar to that played by Thomas Wayne's Batman in the iconic Flashpoint comic series that The Flash seems to be lifting from.
This news will no doubt take large swathes of the DC fanbase by surprise, as in early 2019 Affleck announced he was stepping down from starring in Matt Reeves' upcoming The Batman after struggling with personal demons and addictions – which seemed inevitable after he moved away from directing the film several years earlier. Following this, Robert Pattinson was cast in the role, and the film was seemingly moved out of the Justice League Batfleck continuity, now working as a standalone adventure akin to 2019's Joker. Though, with the revelation of a multiverse in The Flash, speculation will be rife that Pattinson's Batman could easily appear in other DC adventures.
Best of all, it certainly seems like Affleck was keen to get onboard the project, and didn't take the role simply out of duty or expectation. Barbara Muschetti, sister of Andy and producer of The Flash, says in the same interview that "he's now in a very different time in his life. He was very open to it, which was a bit of a surprise to us," and that the role suits Affleck more due to its supporting nature, adding that "it's a pivotal role, but at the same time it's a fun part."
The news will certainly be warmly received by DC fans, who mostly took to Affleck's portrayal of Batman in 2016's Batman v. Superman: Dawn of Justice, and paves the way for even more exciting and unexpected revelations to be announced at the DC Fandome, which takes place tomorrow (August 22nd). As always, we'll be covering it – keep your eyes peeled for a round-up article of all the major announces and shocks in the next few days.