The ongoing pandemic has really sparked a resurgence in creative direction, bringing new ways for films to be made in a landscape where, for smaller productions, face-to-face filmmaking isn't possible. That's where Natalie Morales' delightful Language Lessons steps in. Screening at this year's London Film Festival, it's a comedy for the generation sick to the teeth of Zoom calls – and a surprisingly poignant and emotional exploration of relationships and grief, too.
Presented entirely through online video-conferencing calls and messages, Language Lessons follows Adam (a tender Mark Duplass), a thirty-something socialite from Los Angeles, whose husband Will (Desean Terry) buys him 100 weeks worth of Spanish lessons. When disaster strikes their family, it is Adam's burgeoning connection with Spanish teacher Cariño (Morales, both starring and directing) which takes centre stage – portraying a friendship tested by secrets, distance, and vast disparities in wealth and upbringing.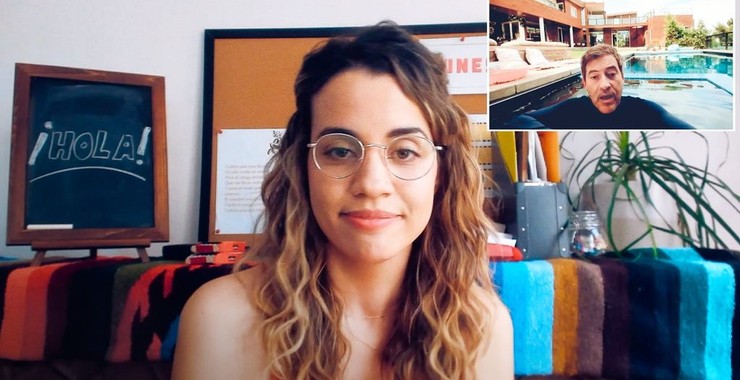 If it sounds less comedic than the bubbly marketing might make you think, there's good reason – what starts as a witty, biting contemporary comedy tuns into a shockingly nuanced character study. Throughout their numerous discussions – and admissions – in the 90-minute runtime, you really become attach to Adam and Cariño, and that's thanks to two stunning lead performances. Both Duplass and Morales convey emotional vulnerability with such skill – which is even more impressive considering the screen-based limitations of the production.
The script, written by the leads, is so endlessly charming, and will evoke laughs whether you speak Spanish or not. An age-old gag about the adjective 'embarazado' never fails to arise a smile, as do their physical efforts to one-up each other in increasingly silly video messages. Yet it's just as adept at subverting your expectations as making you laugh. There are some serious comments about white saviourism and assumptions around gender roles in other countries, as well as thesis geared on the impact of grief, and how people navigate new relationships and their own self-dependency in such traumatic situations.
And it's all testament to such strong directions from Morales, who nails down an environment where it's impossible not to be totally endeared by the leads. We rarely, if ever, see Adam or Cariño alone, always either discussing over Zoom or recording video messages for one another. We get to know them through these interactions, and it makes their chemistry all the more believable and engaging. It also makes their conflicts, of which neither side's motivations are unwarranted, even more difficult to watch – but as with everything else in Language Lessons, it's handled with panache.
It's a film that might not immediately catch your eye on the London Film Festival programme, but Language Lessons is one of the best comedies of the year. It's anchored by such confident direction, and two leads who make their characters and their experiences feel so rich and realistic. You'll laugh, sigh, and very often self-reflect and ponder – and that emotive power is what makes Language Lessons click.
★★★½