The late-career slump of Bruce Willis truly is a sight to behold. It seems these days that the star of gems like Die Hard is now happy to do any project for a paycheck – and Out of Death is the latest in this canon of below-par B movies. Sadly, it doesn't even have the kitsch likeability of other low-budget vehicles like Anti-Life, and is certainly a film worth avoiding.
In many ways, the story behind Out of Death is far more interesting than the final product. Initially the film, directed by first-time filmmaker Mike Burns, was slated to film before the Covid-19 pandemic – but delays hit, and it ended up with a nine-day shoot with Covid regulations last year. Astoundingly, Willis himself was only on set for one day — yes, one — and the rocky production quite neatly mirrors the jarring end result.
The film stars Willis as Jack, an ex-cop and self-proclaimed 'city guy' who's visiting his niece and nephew in a rural mountain town. 'Star' is used lightly though, as far more screentime is devoted to Hank (Michael Sirow), the Sheriff and mayoral candidate who uses the police force to run his underground drug-dealing empire. A suburban journalist named Shannon (Jamie King) finds herself embroiled in their less-than-legal activity, and she looks to one Bruce Willis to help her survive. It's not ground-breaking material by the furthest stretch, but that's not half of the film's problems.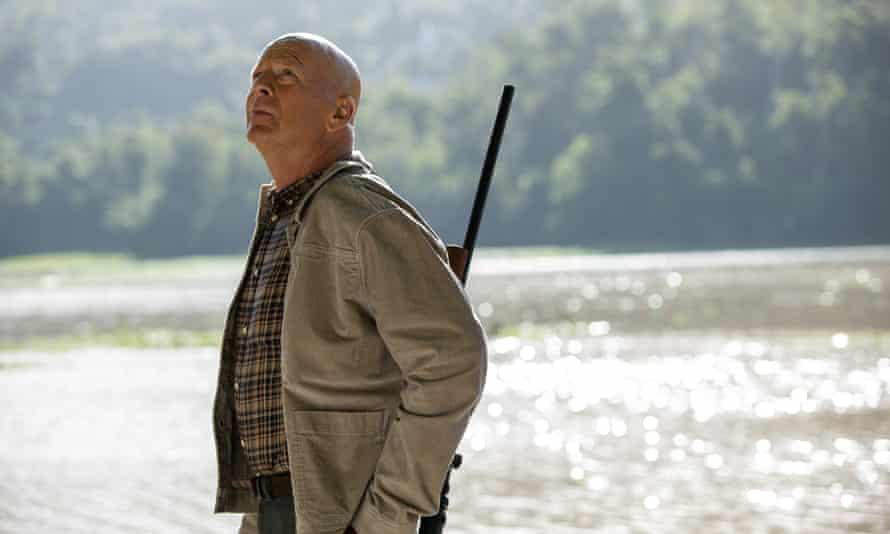 On a fundamental level, an action film should deliver just that – enjoyable action scenes. Out of Death doesn't do this. Willis' performance is stiffer than a rusted padlock: his line delivery really makes it seem like he doesn't care, and he's barely in any of the action scenes. When bullets do fly, it's a battle between decent-looking fake blood and genuinely dreadful bullet CGI – and action is so infrequent that you'll barely even notice the redeeming elements. Some of the hand-to-hand combat is quite enjoyable, but any time Out of Death's low budget starts to show, it's a hugely jarring experience.
It's all quite a shame really, as there are glimmers of promise in here. Some of the supporting characters have a genuine flair to them, notably Tyler Jon Olson's Tommy, and the Fargo-inspired corruption within a small rural town is a premise that still has room for more thematic exploration. Sadly, Out of Death isn't the film to do that. Instead, it leans on a stale Bruce Willis performance and a dreary story. By the end you won't be thinking about the plot – but rather how one of Hollywood's greats has fallen this far.
Out Of Death will be available on Digital Download from 2nd August (pre-order here) & DVD from 4th October
★